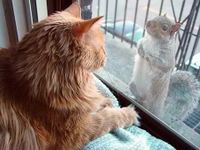 Please, Cat, it's so cold out here.
Oh my god Terra, did you just say "does your mom drop it like that"?
A place to hold the blogger company picnic maybe? We can only have so many functions in my backyard.
Someday, EJ will be president. This will be a momentous occasion as she will not only be the first woman president but the first squirrel president as well.
Unfortunately, the title of first monkey president has already been taken.
Oh Cindy, quit being so unpatriotic. You're an asshole. Bush rules. Bush is back? Something like that.
Sadly, Sheila gets many young squirrels hooked on heroin this way. Damn you, Sheila!
A squirrel's brain. Yeah, this doesn't look good.
This is me when I've run out of money at the bar.
Aw, squirrels need love, too. Hidden behind the grass kind of love.
Yo J, thanks for letting me use your skateboard.
Hang on a sec Ken, I'm trying to get that cop's attention.
Is this a warning or the chalk outline of a murdered squirrel? Or both?
This I just thought was cool. Nice ending, don't you think?